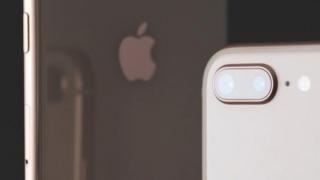 Apple sold fewer iPhones than expected in its most recent quarter but their higher price tag meant the tech giant still beat analyst forecasts.
The firm said it sold 41.3 million iPhones in the three months to the end of June, up just 1% from last year.
But the average iPhone selling price hit $724, well above the expected $694.
The firm said its £999 iPhone X — launched last year — remained its most popular iPhone model in the quarter and had driven the higher selling prices.
Strong revenue growth of 31% from Apple's services business, which includes the App store and Apple Pay, also boosted its performance.
Overall the tech giant's revenue jumped 17% year-on-year to $53.3bn (£40.6bn), with every region except Japan reporting double digit gains.
The firm reported profit of $11.5bn, up 32% compared to the same period in 2017.
Shares in the Californian tech giant jumped more than 2% in after hours trading in New York.