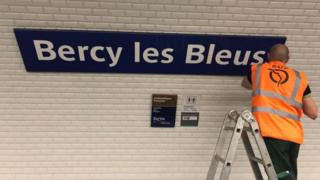 The Paris metro has temporarily renamed six stations in honour of France's World Cup victors, as the capital prepares to salute their return.
The French coach's name features at two stops. Notre-Dame des Champs becomes Notre Didier Deschamps while one of the central stops is renamed Deschamps Elysées-Clémenceau.
The World Cup winners will take an open-top bus along the central avenue in the heart of Paris later on Monday.
France beat Croatia 4-2 on Sunday.
Zagreb was also preparing to welcome back the runners-up, with a parade through the centre of the Croatian capital on Monday afternoon. Local authorities made public transport free to enable as many people as possible to join the party.
Fans partied across France overnight, but celebrations in some cities were marred by violence.
Police fired tear gas as sporadic clashes broke out in Paris, Lyon, Strasbourg and Rouen and several people were arrested.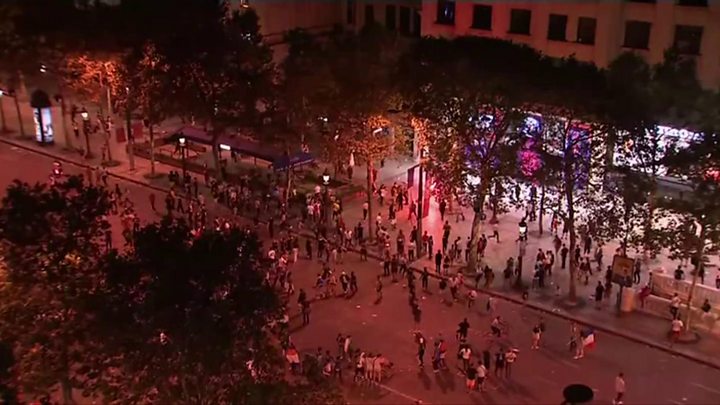 Dozens of youths broke into a store on the Champs-Elysées and stole wine and champagne. Several accidents on the roads were linked to France's World Cup win.
But the national mood was one of joy, and Paris transport company RATP said it was celebrating the success of Les Bleus by the public's side (in French), ahead of the victorious team's parade on the Champs-Elysées.
Victor Hugo station was being temporarily changed to Victor Hugo Lloris, after the France goalkeeper, while Bercy was being renamed Bercy Les Bleus, and Charles de Gaulle-Etoile was changing to On a 2 Etoiles (We've got 2 stars).
The two stars refers to the badge on the team shirt marking two World Cup victories, and a long queue formed outside a sports shop in central Paris on Monday as supporters tried to buy the updated national jersey.
The Louvre museum even tweeted an image of its most famous exhibit, the Mona Lisa, resplendent in the two-starred shirt, congratulating the team on its success.