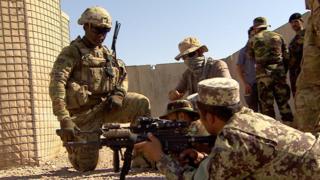 A US service member has been killed and two others injured in what appears to be an insider attack in Afghanistan, Nato says.
The attack took place in southern Afghanistan on Saturday, a statement from the Nato-led Resolute Support mission said.
It was not immediately clear who carried out the attack, or whether they had been apprehended.
However, the statement said it was «an apparent insider attack».
The two wounded service members are in a «stable» condition, Nato said, adding it would not be releasing any further details until next-of-kin had been informed.
But a police officer told news agency AFP the shooting happened at the airport in Tarinkot, the capital of Uruzgan province — although they were unable to confirm this detail with any Nato officials.
The Nato combat mission in Afghanistan officially ended in 2014, however, a number of countries, including the US, still have troops on the ground, helping support the Afghan military.
Afghan security forces, supported by international troops, are currently trying to oust Islamic State militants from their strongholds the eastern province of Nangarhar.