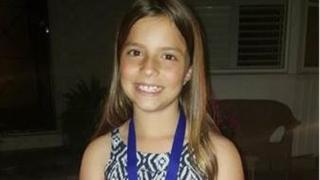 Canadian authorities have released the name of the 10-year-old girl killed on Sunday in a mass shooting in Toronto.
Julianna Kozis died when a gunman opened fire in the city's Greektown district. She was the youngest victim of the attack.
A second victim, Reese Fallon, 18, an aspiring nurse, was out with friends when she was also shot and killed.
Toronto's Faisal Hussain, 29, is the suspected gunman behind the rampage and died after a shootout with police.
Thirteen other people, ranging in age between 17 and 59, were injured in the attack.
Ms Kozis was from Markham, a city in the Greater Toronto Area.
Markham's mayor said the city will lower flags in honour of her memory and in remembrance of all affected by the shooting.
Ms Fallon had recently graduated high school and was due to begin university. She was involved in the youth wing of the federal Liberal party and was remembered as a young woman who was «smart, passionate and full of energy».
What do we know about the suspected gunman?
Hussain has been described by friends and neighbours as shy and quiet, a young man seen frequently walking through his Thorncliffe Park neighbourhood.
Aamir Sukhera, a friend of Hussain's, spoke to Canadian media on Monday night and described the suspect as someone who was «humble» and «kept to himself».
Resident Saira Ahmed told Reuters that Hussain rarely spoke with anyone when he was out in the vibrant community, which is about 4km (2.5 miles) north of where the attack took place.
The Hussain family released a statement in which they expressed their «deepest condolences» to the victims and their families for what they called «our son's horrific actions».
They said their son suffered from serious mental health challenges and had struggled with psychosis and depression most of his life, neither of which responded to treatment.
«While we did our best to seek help for him throughout his life of struggle and pain, we could never imagine that this would be his devastating and destructive end,» they said.
What was the motive behind the shooting?
Toronto police say it is too early in the investigation to speculate on motive.
Federal Public Safety Minister Ralph Goodale has said there is no current connection between Hussain and any national security concerns.
In a statement on Wednesday, Toronto police said there is no evidence at the moment that supports any link to terrorism.
On Monday evening, police executed a search warrant on the apartment in a modest high-rise building that he shared with his parents, and were seen carrying out boxes of evidence.
Police are working with other law enforcement agencies in Canada , going through background information, Hussain's experiences with mental health, and his online activity.
What happened in Toronto?
On Sunday evening shortly after 22:00 (02:00 GMT Monday) a gunman began firing at people who were out enjoying warm summer evening on the bustling Danforth Avenue.
In widely circulated video, the gunman, clad in black, is seen walking down the street before turning, lifting a handgun, and firing.
According to Ontario's Special Investigations Unit, which looks into incidents involving police which result in death, the gunman was tracked by officers to Bowden Street during the shooting.
Two police officers located the man and an exchange of gunfire took place. The man fled the area and was found dead about 100m (330ft) away on Danforth Avenue.
Witness Lenny Graf told the BBC that he was out at a restaurant with friends when some children, including his son, went to play in a nearby park.
«I heard what sounded like firecrackers,» he said. «At that point I saw people starting to run and panic and I realised it must be a shooting»
He found his son crouching behind a fountain, hidden from the shooter who was about 10ft away. The gunman walked away and Mr Graf pulled his son into the safety of the restaurant.
Sunday's attack stunned residents and makeshift memorials have since sprung up along the avenue known by locals as «The Danforth».
In the wake of a the shooting, calls are growing for the sale of handguns to be banned in urban areas.
A vigil for the victims is being held on Wednesday night.