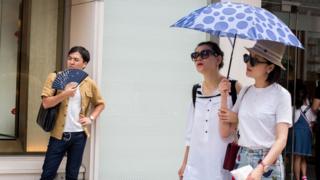 Temperatures in Japan have hit a record high, with officials issuing a fresh warning to stay safe.
Japan has for days been in the grip of a deadly heatwave, although the numbers killed vary widely from 15 to as high as 40.
On Monday, the thermometer peaked at 41.1C (106F) in Kumagaya, near Tokyo, breaking the previous national record of 41C from 2013.
More than a dozen cities have seen temperatures of around 40C.
Japan's disaster management agency urged people to stay in air-conditioned spaces, drink water and rest to prevent heat exhaustion.
«People in areas where temperatures are as high as 35 degrees or higher should be extremely careful» to avoid heatstroke, a meteorological agency official told news agency AFP.
«And even at lower temperatures, the heat can be dangerous for small children and elderly people, and depending on the environment and activities you are doing,» the official warned.
Already this summer, more than 10,000 people have been taken to hospital due to the heat, according to the country's Kyodo news agency.
The previous high was the 41C recorded in the western prefecture of Kochi in August 2013, the Japan Meteorological Agency says.
The current heatwave being the hottest on record has raised some concerns about the 2020 Summer Olympics in Tokyo.