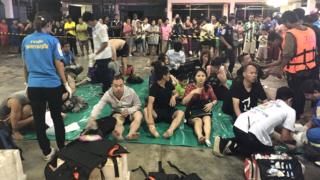 Dozens of people are missing after two passenger boats capsized off the coast of the island of Phuket in Thailand, officials say.
At least 48 passengers were rescued by a fishing trawler when one of the vessels, carrying 97 people, overturned in strong winds and rough seas.
Another 39 people were saved when a second passenger boat overturned.
Thai Navy boats are searching for those who remain missing but rescue efforts are being hampered by conditions.
The incidents occurred at about 17:45 local time (11:45 GMT).
Most of the passengers on the larger vessel, a diving boat named the Phoenix, were Chinese tourists, according to Thai authorities.
One of those rescued was said to have been seriously injured, the Bangkok Post reported.
The second boat was carrying mostly European passengers.
Footage and images captured in Phuket showed tourists huddling in blankets, while others looked distressed as medics tended to the injured.
The governor of southern Phuket, Noraphat Plodthong, said on Thursday that a number of passengers were still «being helped» by rescue boats sent to the scene.
«There were high winds this evening,» he said, adding that a further 10 smaller boats were stranded at sea.
«Yesterday we issued a warning of strong winds and storms,» he added.
In a separate incident, two Russian tourists on a jet ski near the island of Koh Racha had to be rescued after they were caught by the severe weather conditions.
Thailand is bracing for the arrival of the monsoon season, which will bring heavy rain and storms to the area.